Question: What kind of information can I export from JGID and how can I do it?
Answer: JGID saves the information uploaded in the system by orgnaizing it into many different categories such as Clients, Contacts, Locations, Quotes, Jobs, Invoices, Users etc.) You can access those categories through one of the many drop-dwon menus in the system e.g. "JGID", "CRM", "Users" etc.

Those categories essentially represent data-bases with the relevant set of specific attributes unique for each category. Those attributes are structured as columns. Refer to the image below for the typical layout of the Clients data base in JGID:

Remember that you can further customize what columns to be displayed on the screen from the Column visibility button and also bear in mind that based on your selection the content layout you see on your screen is also the content layout that would be finally exported!

Note the number of entries displayed on the screen is determined by the value in the little drop-down menu below the Clients Icon in the upper left corner!
Based on the particular company case, you can have multiple pages each displaying 20 entries or you can have 2-3 pages each showing 500 entries. For bulk data export consider setting the number of displayed entries on the screen as high as possible. JGID exports the data page by page so the fewer the pages – the faster the export!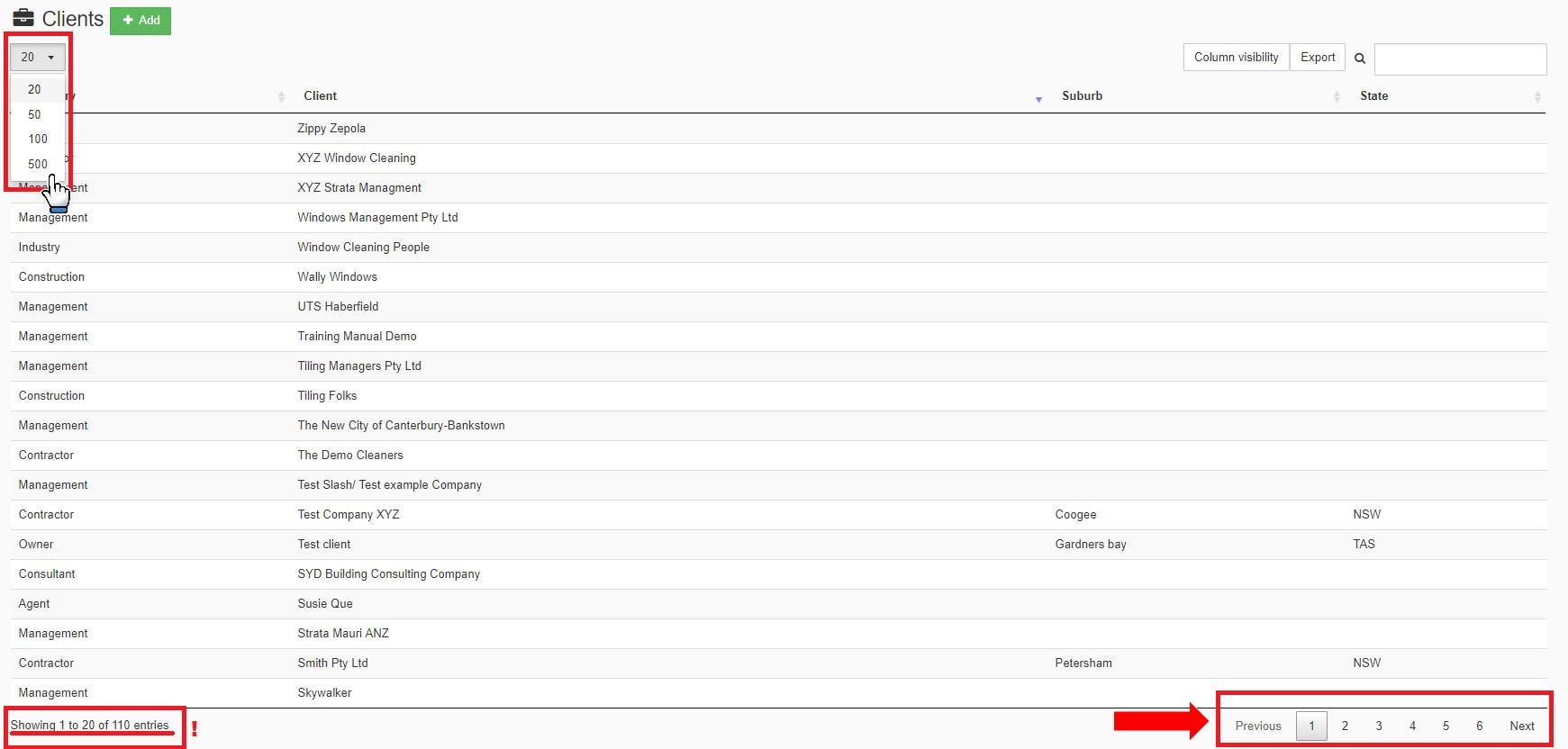 Once you have deterrmined what columns you would like exported and how many export pages you would like to have, proceed by clicking on the export button, located next to the search bar.
This will allow you to select one of four export options:
– Copy the content on screen to the Clipboard if you prefer to paste in a word or other text formatting application;
– Export to an Excel Spreadsheet;
– Export to a CSV spreadsheet;
– Export to a PDF document;
Important – some of the data-bases in JGID would also allow you to make time oriented reports allowing you to summarize the data generated over a certain reporting period. This is the case for example with documents like the Quotes or the Invoices or the Timesheets created over the past week, month or quarter.
Whenever you are working with a data-base that has a time bar displayed on the screen this essentially means you can quickly generate a period oriented report.
Such is the case for example with the Timesheets populated in the system. To quickly select the report period simply click on the time bar and select one of the many preconfigured options or choose your own, customized time frame!

For more details and insight on Data export from JGID, please check the video tutorial below: